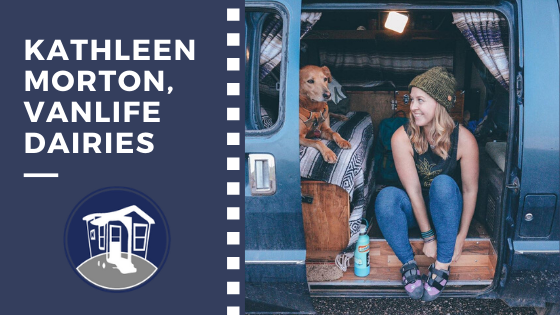 We called Colorado local and vanlife influencer, Kathleen Morton to get to know more about how she got into the mobile lifestyle movement and what inspired her to write her book, Van-Life Diaries. For Kathleen, the rapidly growing mobile lifestyle movement is defined as a freeing, mobile, way of life that allows you to be a 'digital nomad' if you will and live/work wherever you choose. The joy of this lifestyle is that it is constantly being re-defined by those who choose to embrace it.
Kathleen hasn't always lived in a van, the impetus for a lifestyle change began in a surprisingly relatable place, living in Denver with a full-time job, waiting and working for the weekend so she could enjoy the wilderness and go camping (a dream most Coloradoans share). 
Like most big cities, rent prices were continuously rising and Kathleen found herself paying a lot to live in a place without nature or fulfillment of wanderlust. She kept saying to herself, "there's got to be a better way", and began exploring alternative living. After a move to Golden, CO and looking on Craigslist and finding multiple vans, Kathleen came upon a camper trailer for $1800 which at the time, was the equivalent of 2 months rent. 
The idea of living in a van at that time didn't seem feasible considering she still worked a 9-5 and needed a place she could shower, do laundry etc. so the camper trailer won. After finding a homeowner on Airbnb who consented to allow her to live in their backyard in her trailer, the lifestyle was born. Initially, Kathleen was still going to work every day and using the showers/facilities at her place of work (a university with a large gym), and it wasn't until she began connecting with others living similar lifestyles, that she decided to start writing about her experiences. 
Now you're probably thinking anyone who lives in a van full time and has committed themselves in such a grand way to this lifestyle, is the greatest advocate for others to join right? Wrong. Kathleen is down to earth and genuine about people choosing what works best for them. "If it works for you, great! If not, no worries. I really try to encourage people to go out and camp for a weekend, have a trial run to really ask, what do you like? What's missing? What kind of trip are you trying to have?"
For Kathleen and many others, the benefits of living a mobile lifestyle simply outweigh the more traditional societal norms of a 2k+ sq. ft. home. "The key factors for me are Freedom, Sustainability, and Connection with nature. Living this way allows me to work from anywhere, travel wherever I want, and be able to integrate myself with the wild areas of America and beyond that are often taken for granted". Her thoughts on the sustainability aspect are simple, "when your living smaller it automatically becomes a little easier as your often living off grid, not plugged into a main source of energy, your consuming less materials as a whole thereby making less trash/waste, and you don't have room to store anything in excess so you buy less as well". 
We asked Kathleen about her book and ever-growing Van Life Gathering Tours happening across the country and discussed the community focus at the forefront for every event. "We have a tour this year stopping in quite a few different states from the west, Tetons in WY to the east, New Orleans, LA and more! No gathering looks the same as it depends on who's attending, and these gatherings are really for anyone living nomadically to get together, connect, and share skills". 
Kathleen's book, Van-Life Diaries, features over 250+ stories from diverse travelers engaging in this unique and rewarding lifestyle. Sharing tips on where to camp, shower, etc. it fits a lot of different needs for explorers of all kinds, not just people living in vans and campers.  "My goal from the beginning was to find a diversity of people to feature in the book so you'll find stories on tiny houses, vans, vehicles, family and solo travelers, different people that represent the whole community". 
When asked what she hopes this book will do for people she answered humbly, "to inspire people to live this life. I get messages from people all the time who have taken the leap because of what's been represented for them as a viable lifestyle option. Sometimes you need that extra push of encouragement to go after your dream and I hope that this book continues to do that for anyone wondering if there's a better way". 
To find out more about Kathleen or her book, visit https://www.vanlife.com.au/vanlife-diaries